Research Education Core
The Ponce Health Sciences University (PHSU) and Moffitt Cancer Center (MCC) Partnership is a collaborative effort that promotes education, research, and training opportunities for young scientists and medical students in the area of cancer investigation in the Puerto Rican population. The main goal of the PHSU-MCC Partnership Research Education Core is to increase the number, competence and success of these cancer professionals.
The Research Education Core provides Ph.D and medical students the opportunity and funding to complete basic and translational laboratory research projects. Students from Ponce Health Sciences University can elect to undertake their project at MCC or at PHSU. Students from MCC and the University of South Florida with an ongoing interest in cancer research are eligible to train at the PHSU campus.
Access the Research Education Core Library
---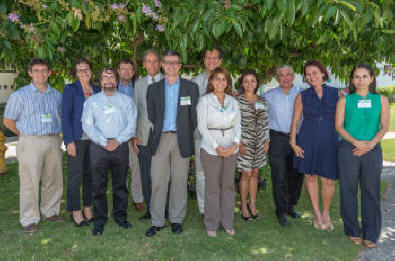 News:
Summer 2018 Research Opportunity in Tampa, FL or Ponce, PR
The Research Education Core under the U54 PHSU-MCC Partnership will be accepting applications from Masters of Science in MS, Medical and Graduate students to participate in an 8 week summer rotation at the H. Lee Moffitt Cancer Center in Tampa, FL or at Ponce Health Sciences University in Ponce, PR.
The primary goal of this program is to allow cross-institutional training of students from MCC/USF and PHSU-PRI in specialized areas of cancer. Areas include basic cancer research, population science, or translational research, as well as education into the problems associated with delivery of cancer care and research in minority populations. For more information about this opportunity, please click here
Would you like to apply? Download the application form and apply now!
Pre-doctoral to Post-doctoral Transition Fellow Position
Jaileene Pérez Morales, Ph.D. student at Ponce Health Sciences University and former NIGMS RISE trainee, has become our very first Pre-doctoral to Post-doctoral Transition Fellow, a new initiative under the U54 Research Education Core.
 The Pre-doctoral to Post-doctoral Transition Fellow Position is intended for Ph.D. students in their final year. Our goal is to guide Jaileene towards a post-doctoral position where she will be provided additional support and mentoring tailored for her career development. We aim to help her gain increased knowledge and understanding of existing health disparities in the Hispanic/Latino population, build a strong research portfolio of publications and grant applications, and establish herself as a highly competitive cancer biologists. On behalf of the Research Education Core, congratulations to Jaileene in her new position!
---
Success Stories
The Ponce Health Sciences University (PHSU) Cancer Interest Group (formerly known as Oncology Interest Group) was once again selected as a Cancer Interest sponsored group of the American Society of Clinical Oncology (ASCO). Founded in 1964, ASCO is a professional Oncology society committed to conquering cancer through research, education, prevention and delivery of high-quality patient care. The PHSU CIG aims to encourage commitment, education, leadership and research among health sciences students interested in the Oncology field. The award funds serve to support various group activities such as professional development and research workshops, community outreach events, and cancer awareness initiatives.
New directive members of the Cancer Interest Group:
Roberto J. Guzmán-Badillo, President
Kristian A. Figueras, Vice-President
Jean C. Lafontaine Rivera, Treasurer
Elia M. Ríos Cosme, Secretary
Christian Torres Toro, Public Relations Officer
Dayana C. Reverón-Alvalle, Student Mentor
Roberto J. Herrera Camacho, Medicine/MSMS 1st year Representative
Laneisha Maldonado Jaime, Medicine 2nd year Representative
Paola Ramos, Public Health Representative Noedmarie Hernández, Psychology Representative
Research Education Core Co-Leaders
Research Education Core Investigators
Research Education Core Coordinators
Events:
"Lung Cancer Stemness and Metastasis: Novel Roles of TBK1 and YAP1" Cancer Seminar, Srikumar Chellappan, Moffitt Cancer Center, August 30th, 2017
"Recent Advancements in the Treatment of Metastatic Bladder Cancer & Prostate Cancer" Grand Round – Dr. Jingsong Zhang, Moffitt Cancer Center, May 11th, 2017
"Advancements in the Treatment of Brain Glioma" Grand Round – Dr. Nam Tran, Moffitt Cancer Center, April 27th, 2017
"The Role of Stress in Cancer Onset and Progression: From Ancient Greece to Epigenetics" Cancer Seminar, Dr. Heather Jim, Moffitt Cancer Center, April 26th, 2017
"Breast Cancer in the Older Women" Grand Round – Dr. Lodovico Balducci, Moffitt Cancer Center, March 23rd, 2017
"Adoptive Cell Therapy Using Tumor Infiltrating Lymphocytes (TIL)" Cancer Seminar – Dr. Shari Pilon- Thomas, Moffitt Cancer Center, March 7th, 2017
"What has changed in the Management of Colorectal Cancer?" Grand Round – Dr. Richard Kim, Moffitt Cancer Center, February 23rd, 2017
"Advanced Cancer Caregivers: How the Social Context can Impact Stress?" Cancer Seminar, Dr. Maija Reblin, Moffitt Cancer Center, February 8th, 2017
"Emerging Roles of the Microbiome in Cancer" Cancer Seminar, Dr. Christine Pierce-Campbell, Moffitt Cancer Center, December 14th, 2016
"Identifying Mechanisms of Drug Resistance in Gynecologic Cancers and Developing Strategies to Combat Them" Cancer Seminar, Dr. Bo Rueda, Harvard Medical School, October 19th, 2016
"Adoptive Immunotherapy for Cancer: CAR-T Cells and Beyond" Cancer Seminar, Dr. Danirl Agate-Daga, Moffitt Cancer Center, June 29th, 2016
"Management of Upper GI Malignancies" Grand Round, Khaldoum Almhanna, Moffitt Cancer Center, June 23rd, 2016
"Innovation for Cancer Therapeutic Development: An Industry Perspective" Cancer Seminar, Heather A. Brauer, Ph.D., Bothell, WA, April 21st, 2016
"The Role of Surgery in Managing Non-Small Cell Lung Cancer: An Evidenced-Based Approach" Grand Round – Dr. Lary Robinson, Moffitt Cancer Center, April 14th, 2016
"Regulation of p53 Stress Response" Cancer Seminar – Dr. Jiandong Chen, Moffitt Cancer Center, March 2nd, 2016
Follow us: