Research Education Core
The Ponce Health Sciences University (PHSU) and Moffitt Cancer Center (MCC) Partnership is a collaborative effort that promotes education, research, and training opportunities for young scientists and medical students in the area of cancer investigation in the Puerto Rican population. The main goal of the PHSU-MCC Partnership Research Education Core is to increase the number, competence and success of these cancer professionals.
The Research Education Core provides Ph.D and medical students the opportunity and funding to complete basic and translational laboratory research projects. Students from Ponce Health Sciences University can elect to undertake their project at MCC or at PHSU. Students from MCC and the University of South Florida with an ongoing interest in cancer research are eligible to train at the PHSU campus.
Access the Research Education Core Library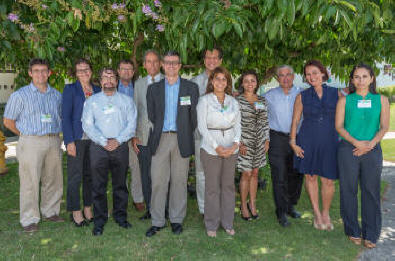 ---
Summer 2020 Research Opportunity in Tampa, FL or Ponce, PR
The Research Education Core under the U54 PHSU-MCC Partnership is accepting applications from medical, graduate and masters students to participate in an 8 week research rotation at the H. Lee Moffitt Cancer Center in Tampa, FL or at Ponce Health Sciences University in Ponce, PR.
The primary goal of this program is to allow cross-institutional training of students from MCC/USF and PHSU-PRI in specialized areas of cancer. Areas include basic cancer research, omics, population science, or translational research, as well as education into the problems associated with delivery of cancer care and research in minority populations. To achieve this goal, students from each institution are provided an opportunity to train and do research at the partner institution. For more information about this opportunity, please click here.
Would you like to apply? Download the application form and apply now!
---
New Adjunct Pre-doc to Post-doc Transition Fellow
Claudia Colón-Echevarría, PhD candidate in the Biomedical Sciences Department at Ponce Health Sciences University (PHSU), has been named an adjunct Pre-doc to Post-doc Transition Fellow with the U54 PHSU-MCC Partnership.
Under the mentorship of Dr. Guillermo Armaiz, U54 Pilot Research Project Co-Leader at PHSU, Claudia has contributed to research focused on ovarian cancer, with first authorship on a recently published paper in Frontiers in Oncology. Claudia was awarded 1st place for her poster presentation at the 2019 Puerto Rico Cancer Research Meeting, and received a Minority Travel Award to present her work at the AACR Annual Meeting 2019 in Atlanta, GA.
Claudia is a student member of the Internal Advisory Committee of the NIGMS RISE Graduate Training Program at PHSU (of which she was a former fellow) and holds an F31 Fellowship Award from NIH/NCI. Claudia is expected to defend her thesis dissertation in May 2020.
Along with our first Pre-doc to Post-doc Transition Fellow, Jaileene Perez, PhD, Claudia will join Moffitt Cancer Center as a post-doctoral fellow to continue her career in cancer health disparities research. Congratulations, Claudia!!
---
Pre-doctoral to Post-doctoral Transition Fellow - Jaileene Perez Morales
Jaileene Perez Morales, PhD student at Ponce Health Sciences University and former NIGMS RISE trainee, will defend her thesis project "A Retinoblastoma Protein Phosphorylation Code Associated with Cell Adhesion and Metastasis in Lung Cancer" on Friday, December 7, 2018. Her thesis committee members are Dr. Pedro Santiago and Dr. Rick Noel from Ponce Health Sciences University, Dr. Mauricio Cabrera from University of PR-Mayagüez, Dr. Doug Cress from Moffitt Cancer Center and Dr. Claudia Fischbach from Cornell University.
Jaileene was appointed as our very first Pre-doctoral transition fellow on December 1, 2017. As a pre-doc to post-doc transition fellow, the U54 assisted Jaileene during her last year as a PhD candidate with tuition costs, travel support and others to advance her career as a future cancer investigator. During the past year, Jaileene was awarded with the Hurricane Maria Continuity Track Award from the AAAS/TRUST to help scientists continue their research projects after the strike of hurricane Maria on PR. Jaileene also attended various conferences where she presented posters and made oral presentations.
Upon defending her thesis, Jaileene will transfer to the Moffitt Cancer Center in Tampa, FL as a post-doc fellow to continue her career path as a future scientist focused on cancer research. We wish the best of luck to Jaileene and are very proud of her achievements to date!
---
Former U54 Research Education Core Trainee Accomplishments
Dayana Reveron (REC trainee Summer 2015 and 2017) is carrying out a year long research internship at Moffitt Cancer Center in Tampa, FL with Dr. Mokenge Malafa's lab
Presented a poster at the ECOG-ACRIN Cancer Research Group Meeting on October 25-27, 2018 in Fort Lauderdale, FL - she received a travel award to present
Presented a poster at the 16th Annual American Medical Association Research Symposium on November 9, 2018 in National Harbor, MD
Publication from her 2017 rotation: Reverón D, López C, Gutiérrez S, Sayegh ZE, Antonia T, Dutil J, Malafa M, Coppola D. Frequency of Mismatch Repair Protein Deficiency in a Puerto Rican Population with Colonic Adenoma and Adenocarcinoma. Cancer Genomics Proteomics. 2018 Jul-Aug; 15(4):265-271.
Amanda Palmer (REC trainee Summer 2015) has been selected as one of four recipients of the 2018 Outstanding Thesis and Dissertation Award
Presented her research at the University of South Florida's Scholars of Excellence luncheon on November 13, 2018 in Tampa, FL
Publications from 2018: Palmer AM, Brandon TH. How do electronic cigarettes affect cravings to smoke or vape? Parsing the influences of nicotine and expectancies using the balanced-placebo design. J Consult Clin Psuchol. 2018 May; 86(5):486-491.; Kovacs MA, Palmer AM, Correa JB, Brandon TH. Smoking by young women with restrained eating following a food prime in the context of an alternative distractor. Exp Clin Psychopharmacol. 2018 April; 26(2):186-194.
Applying for a one year clinical internship in Clinical Psychology as part of the doctoral program
Michelle Echevarria (REC trainee Summer 2011) is completing her 4th year of residency in Radiation Oncology at Moffitt Cancer Center in Tampa, FL
Likely to be selected to join as Moffitt Cancer Center faculty in July 2019
Cancer Interest Group at Ponce Health Sciences University
The Ponce Health Sciences University (PHSU) Cancer Interest Group (formerly known as the Oncology Interest Group) was once again selected as a Cancer Interest sponsored group of the American Society of Clinical Oncology (ASCO). Founded in 1964, ASCO is a professional Oncology society committed to conquering cancer through research, education, prevention and delivery of high-quality patient care. The PHSU CIG aims to encourage commitment, education, leadership and research among health sciences students interested in the Oncology field. The award funds serve to support various group activities such as professional development and research workshops, community outreach events and cancer awareness initiatives.
New directive members of the Cancer Interest Group (2018-2019):
Laneisha Maldonado Jaime, President
Sohemi Pagán, Vice-President
Héctor Vargas, Treasurer
Marielys Collazo, Secretary
Elizabeth Pérez, Public Relations Officer
Amanda Cintrón, Medicine/MS 1st year Representative 
Roberto Herrera Camacho, MS 2nd year Representative
Paola Ramos Echevarría, Medical Public Health Representative
Dr. Caroline Appleyard and Dr. Pedro Santiago, Advisors
Events:
"Targeting Key Signaling Nodes Essential for Cancer Stem Cell Survival and Chemoresistance" – Cancer Seminar, Dr. Carlos Díaz Osterman, Moores Cancer Center, December 13, 2018
"Lymphodepletion-Generated Myeloid Derived Suppressors Cells (MDSC) Decrease the Efficacy of Adoptive T Cell Therapy" – Cancer Seminar, Dr. Shari A. Pilon-Thomas, Moffitt Cancer Center, November 28, 2018
"Cancer Health Disparities: The Role of Race, Ethnicity and Social Class" – Health Disparities Seminar, Dr. Eliseo Perez-Stable, November 16, 2018
"Multifactorial Approach to the Study of Prostate Cancer in Hispanic Population" – Cancer Seminar, Dr. Margarita Irizarry, University of Puerto Rico-Medical Sciences Campus, September 26, 2018
"Illuminating Developmental Receptor Signaling Mechanisms through Protein Engineering" – Cancer Seminar, Dr. Vince Luca, Moffitt Cancer Center, September 12, 2018
"Maximizing Melanoma Modeling in the Mouse" – Cancer Seminar, Dr. Florian Karreth, Moffitt Cancer Center, August 29, 2018
"Colorectal Genetic Diseases" – Grand Round, Dr. Julian Sanchez, Moffitt Cancer Center, August 17, 2018
"Adhesion GPCR BAI1 Suppresses Medollublastoma Formation by Protecting p53 from Mdm2-mediated Degradation" – Cancer Seminar, Dr. Erwin Van Meir, Emory School of Medicine, August 15, 2018
"Roles of Micro RNAs in Cellular Behaviors Underlying Tumor Progression" – Cancer Seminar, Dr. Jin-Tang Dong, Emory School of Medicine, June 20, 2018
"A Primer on CRISPR-Mediated Cell Line Engineering" – Workshop, Dr. Phil Hinds, Tufts University School of Medicine, May 9, 2018
"Psychosocial Needs and Uptake of Psychosocial Services of Latino Cancer Patients" – Cancer Seminar, Dr. Rosario Costas-Muñiz, Memorial Sloan Kettering Cancer Center, April 4, 2018
"Investigating Tumor-Associated Autoantigenes in Prostate Cancer: Implications for Metastasis and Chemoresistance" – Cancer Seminar, Dr. Tino Sánchez, Loma Linda University, February 28, 2018
"Metallocene Steroid Conjugates as Potential Target Specific Drugs" – Cancer Seminar, Dr. Enrique Meléndez, University of Puerto Rico-Mayagüez Campus, January 31, 2018
Follow us: