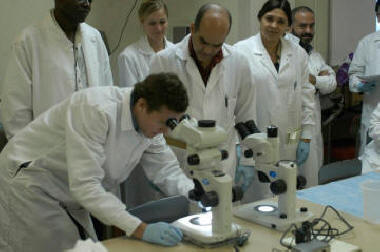 Research
The PHSU-MCC Partnership provides funds for developmental research projects, pilot projects and full projects. All of the projects and programs must relate to the overall priorities of the PHSU-MCC Partnership and include a mentorship component for less experienced investigators at either institution.
2021 U54 Competitive Renewal Funding Opportunity Pre-Proposal Application
The Ponce Health Sciences University (PHSU) and Moffitt Cancer Center (MCC) U54 Partnership is dedicated to reducing cancer disparities in the Hispanic/Latino population in Puerto Rico and in Florida. Founded in 2006, the PHSU-MCC Partnership is funded by the NCI Center to Reduce Cancer Health Disparities through the Comprehensive Partnerships to Advance Cancer Health Equity (CPACHE) Program. The competitive renewal application for this partnership will be submitted in Fall 2021. This call for pre-proposals serves as an open invitation to solicit innovative project ideas for inclusion in the competitive renewal application.
Pre-Proposals will be evaluated by internal and external advisors for scientific merit, potential to lead to extramural funding, and a focus on cancer health disparities or minority health. Successful pre-proposals will be selected by a review panel to submit a full application for potential inclusion in the 2021 renewal grant.
Selected proposals will be considered for full or pilot projects in the 2021 U54 renewal application and budgeted at:
          o Full projects – approximately $275,000 in direct costs (i.e. $137,500 per institution) per year for 3 years
          o Pilot projects - approximately $120,000 in direct costs (i.e. $60,000 per institution) per year for 3 years
Selected applications will involve a Co-leader at each institution. The pre-proposal application does not require having an identified Co-leader at this time from the partnering institution. Partnership leaders are available to assist with identifying Co-leaders and consultation on potential ideas. Budgets are not required for the pre-proposal application. Final budgets are contingent upon the release of the updated RFA by NCI expected in 2021.
This application closed on March 1, 2021.