PRBB in the News
The Puerto Rico Biobank (PRBB) becomes a contributor to The Oncology Research Information Exchange Network (ORIEN)
Personalized medicine is a hallmark of modern and effective cancer therapy. However, personalized medicine depends on data and data is woefully lacking for cancer patient of Hispanic/Latino (H/L) backgrounds.
ORIEN unites a diverse network of cancer centers in pursuit of a common goal—accomplishing more in the fight against cancer. Powered by M2GEN data and informatics platforms, the Network gives cancer centers, biopharmaceutical companies, researchers, and scientists the ability to work from shared, standardized information, to collaborate seamlessly, and to contribute to each other's scientific goals.
During the past year, the PRBB has fully implemented the ORIEN Project collecting tissue and data from H/Ls from Puerto Rico and Florida. While we have only just begun, we have already collected 359 H/L patient tissues in Tampa Florida and 38 subjects in Ponce, PR. The figure below summarizes progress. So far, the most commonly recruited tumors recruited in Ponce are prostate, colon and then breast cancer. Plans are to recruit up to 500 patients from Ponce to enter ORIEN. These data will be of great value for clinicians to make treatment decisions for patient of all races and ethnic backgrounds.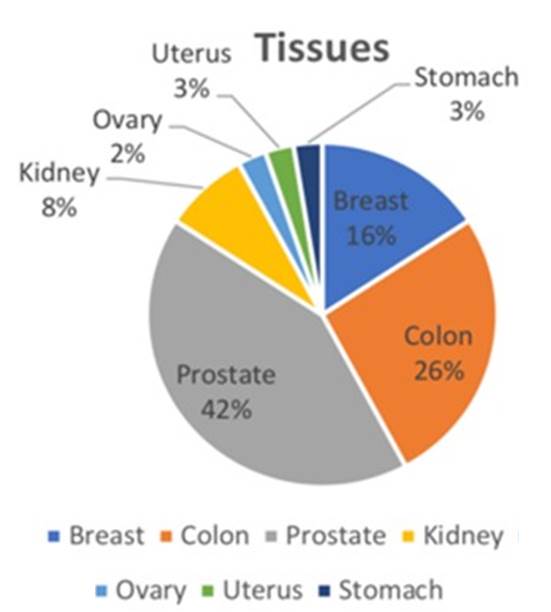 Options: